This post brought to you by Breyers. The content and opinions expressed below are that of Smashed Peas and Carrots.
One of my favorite things about summer is all the warm nights we spend as a family sitting outside enjoying a game of Monopoly or Crazy 8's and having something sweet to eat after dinner. Much of those desserts we love center around ice cream. How could they not…it's like summer's perfect dessert, cool and creamy and oh so good. My kids love ice cream sundaes and, because I am their mom, I always try to find a way to add some fruit to their diet….guess what? Fruit goes really well with ice cream! These Stars & Stripes Sundaes are a big hit in our family, each sundae has a bit of strawberries, blueberries, and even a little pretzel for crunch. It's a winner through and through.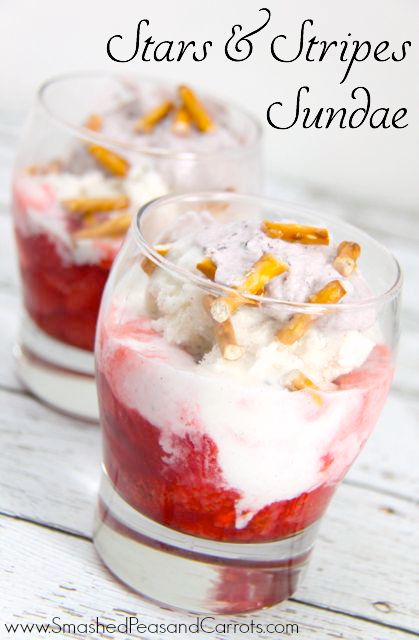 One of our favorite ice creams to use for the base of our sundaes is Breyers Natural Vanilla. I really like the fact that Breyers is committed to using high quality ingredients. Did you know that Breyers Natural Vanilla is made with fresh cream, sugar and milk, and sustainably farmed vanilla beans? Yep. True. There is a reason it is America's number one vanilla ice cream! Breyers now sources milk and cream from cows not treated with artificial growth hormones*. And all Breyers vanilla is real and from sustainably farmed, Rainforest Alliance Certified™ vanilla beans. You gotta like that!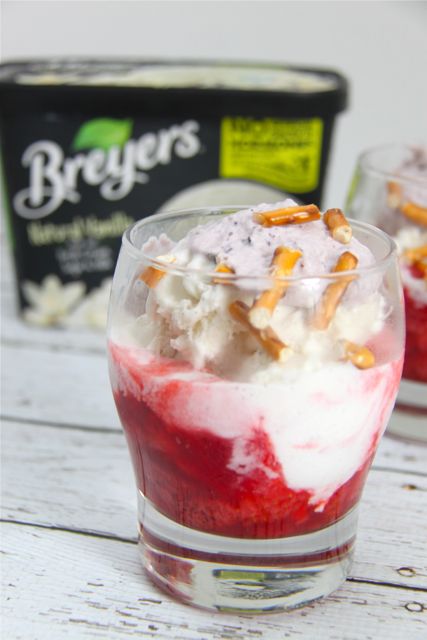 And not only does Breyers have a commitment to high quality ingredients it has also partnered with Chef Antonia Lofaso to create 5 fun, family-friendly recipes featuring their Natural Vanilla ice cream to encourage more family moments together. Here is Chef Lofaso's recipe for her easy to make and great tasting Stars & Stripes Sundae:
Stars & Stripes Sundae
Ingredients
¾ cup heavy cream
1 cup crushed blueberries
2 Tbsp. confectioners sugar
2 Tbsp. water
2 Tbsp. granulated sugar
1 cup roughly chopped strawberries
2 cups Breyers® Natural Vanilla Ice Cream
2 Tbsp. crushed pretzels
Instructions
To make blueberry whipped cream either by hand or with a stand mixer fitted with a whisk attachment, whisk cream, crushed blueberries and confectioners sugar until soft peaks have formed, about 5 minutes by hand and about 3 minutes with stand mixer.
In an 8-inch sauté pan, combine water and granulated sugar with strawberries and cook on medium to high heat for about 5 to 6 minutes, until water and sugar create a syrup and strawberries begin to slightly breakdown.
To make each sundae, spoon the warm sautéed strawberries onto the bottom of a small bowl.
Top with ½ cup scoop of Breyers® Natural Vanilla Ice Cream.
Add a small dollop of blueberry whipped cream and sprinkle with pretzels.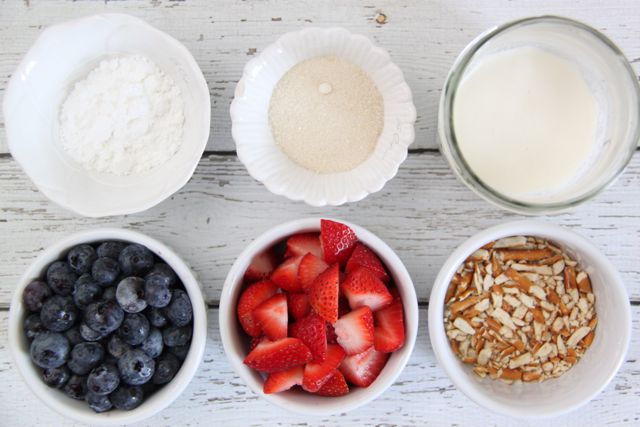 I tell you, you cannot go wrong with the combination of fresh fruit and ice cream!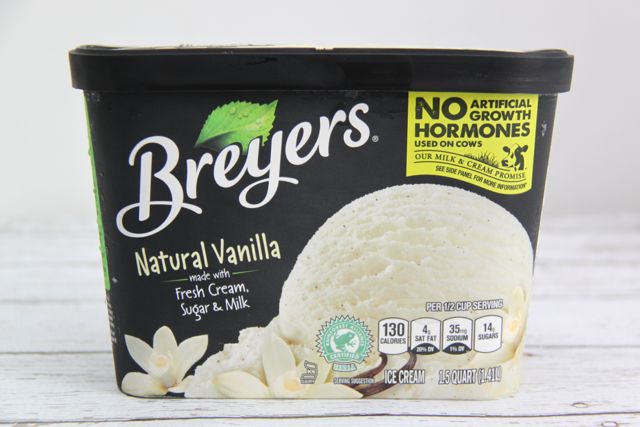 And this ice cream in particular…so flippin' good!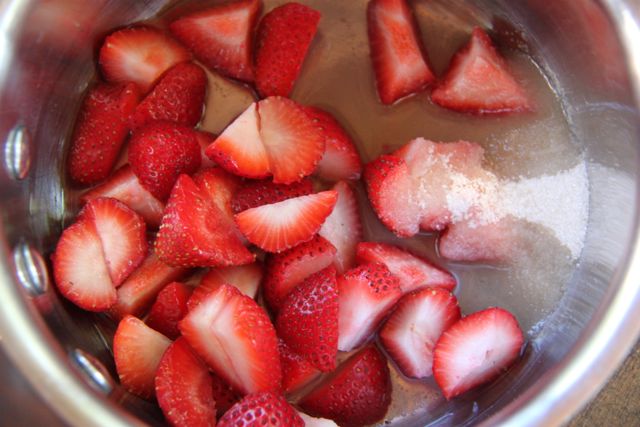 You will first want to place your strawberries, sugar, and water in a small saucepan and simmer for about 5-6 minutes. Until you have a nice simple syrup and those strawberries are broken down a bit.
It will look like this! Let it cool a bit before adding it to your ice cream dishes or your ice cream will get melty and fast!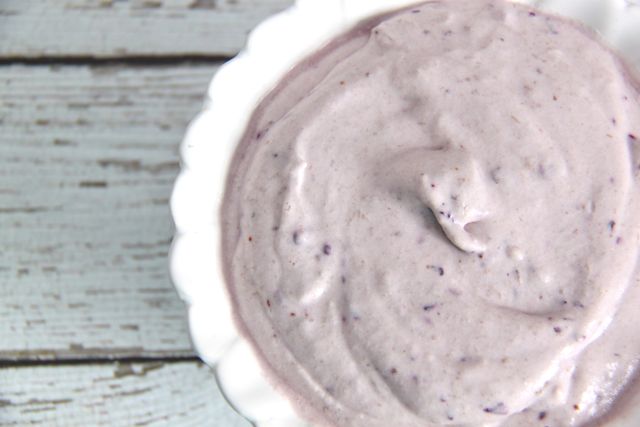 While the strawberry mixture is cooling, place the cream, powdered sugar, and crushed blueberries in the bowl of an electric mixer and mix for about 3 minutes until you have nice soft peaks. Set it aside and let's start constructing our sundaes shall we?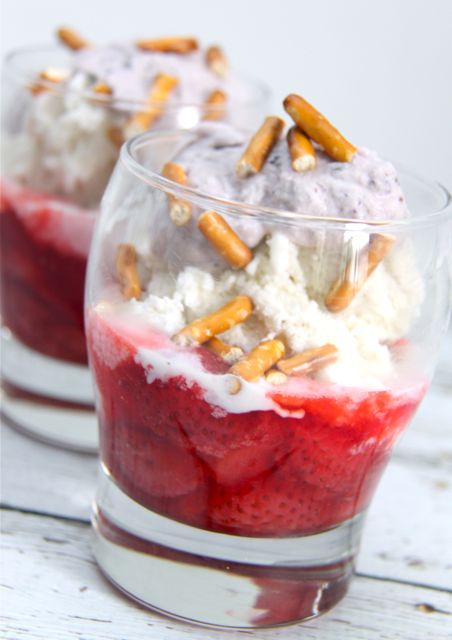 You will want to place some strawberries at the bottom of your dish first, then about a 1/2 cup of ice cream. Top with a dollop of blueberry whipped cream and some crushed pretzels…Mmmm! So good.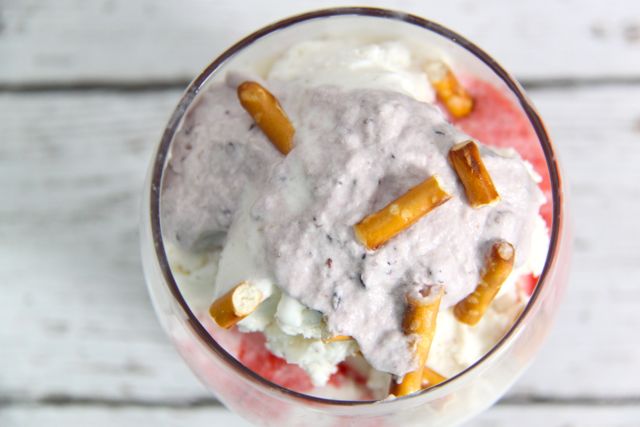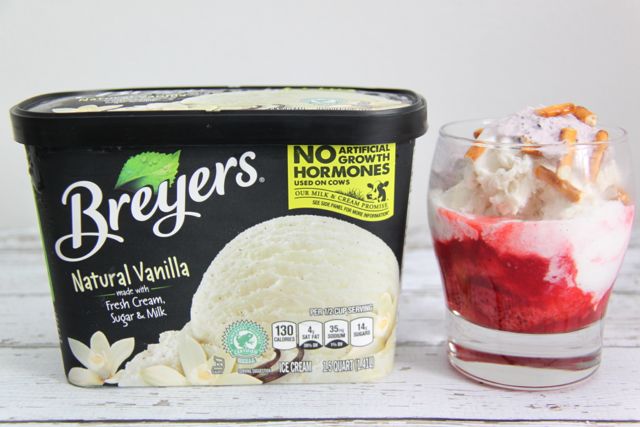 *Suppliers of other ingredients such as cookies, candies & sauces may not be able to make this pledge. The FDA states that no significant difference has been shown between dairy derived from rBST-treated and non-rBST-treated cows.
You can see the complete list of Chef Lofaso's recipes here:
toasted almond and vanilla arancini
pound cake and peaches sundaes
You can learn more about Breyers via their social media sites here:
Breyers products are available in grocery stores nationwide for a suggested retail price of $3.99 – $5.99.