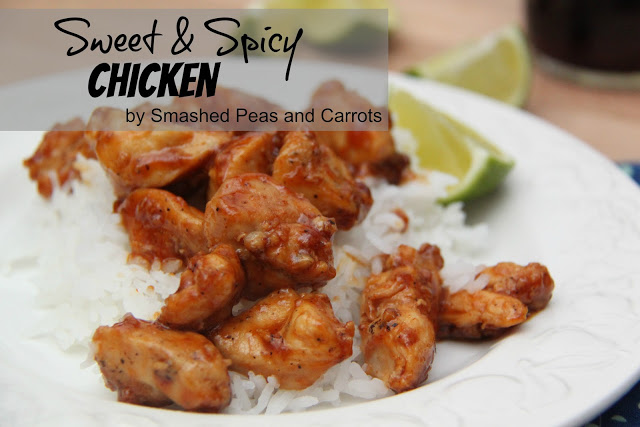 Here's another favorite dinner of ours.  This one is so very, very good, a little sweet and a little spicy.  Totally up my alley!  It's a take on some yummy Chinese take-out that we try not to order too often. Dang that can get pricey when you order half the menu.  Wait, am I the only one who does that?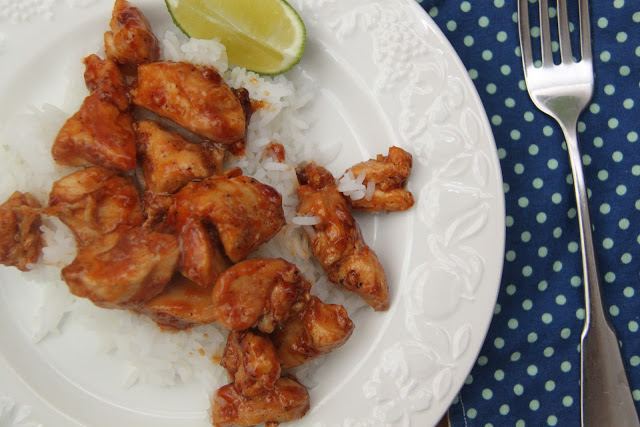 Two good things about this meal are that it is so much healthier than Chinese take-out plus it whips up quick too.  You can make it while you are helping one sweet as pie little kindergartener practice writing his 'letter of the week' all the while nursing a 3 month old.  Well, while the chicken is cooking anyways 🙂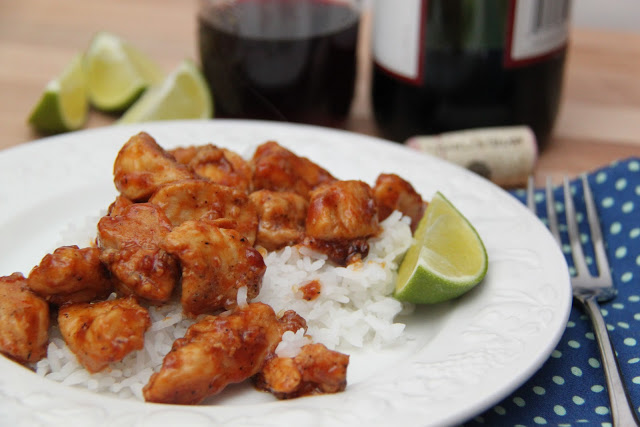 Oh, and if you aren't that into spicy food just halve the amount of Sriracha sauce.  Or just eat it with more rice, nom 🙂  Alright, here's the recipe, I hope you enjoy this one as much as we do!
Sweet and Spicy Chicken
Ingredients
2 lbs boneless chicken breasts (about 4)
¼ cup soy sauce
2 tbsp honey
1 tbsp brown sugar
½ tsp ground ginger
2 tsp minced garlic
2 tbsp sriracha sauce
½ tbsp cornstarch
1 tbsp cooking oil
salt and pepper
Instructions
In a large skillet, heat 1 tbsp of cooking oil over medium heat.
While you are waiting for the oil to get hot, cut the chicken breasts into 1-2 inch pieces and season with salt and pepper.
Add the chicken to the skillet and brown the chicken on both sides.
In a small saucepan, add the remaining ingredients together cooking over medium heat until sauce thickens.
Pour sauce into skillet over cooked chicken and mix until chicken is well coated.
Serve with rice and veggies.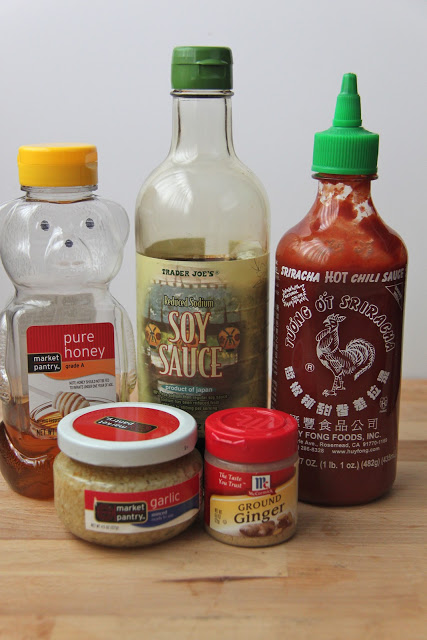 The cast of characters for today's recipe.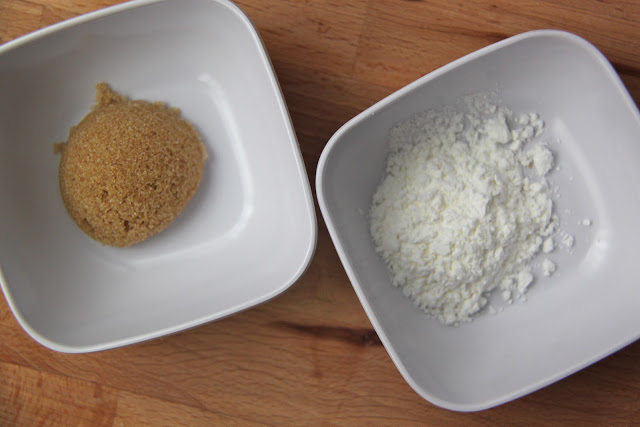 Oh, plus a little brown sugar and cornstarch!  The cornstarch will help thicken your sauce so do not forget to add it in!
Once you mix your sauce ingredients together (soy sauce, honey, brown sugar, ground ginger, minced garlic, sriracha sauce, and cornstarch) you will cook it over medium heat until it looks like this.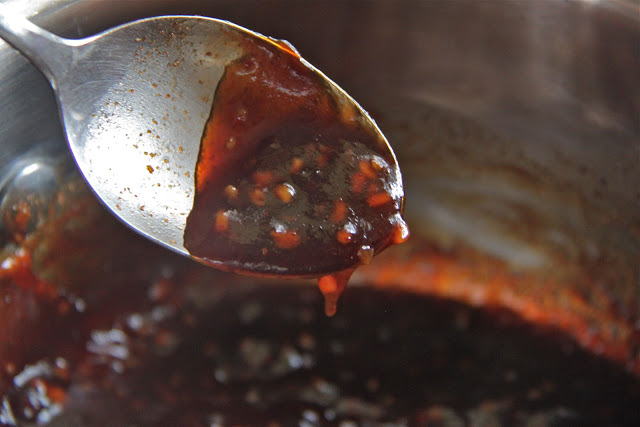 See, nice and thick!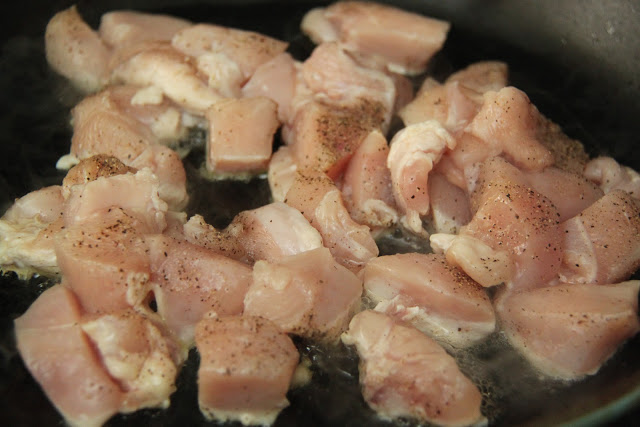 While your sauce is going, start cooking your seasoned chicken pieces.  Doesn't raw chicken make for the grossest food photography photos ever?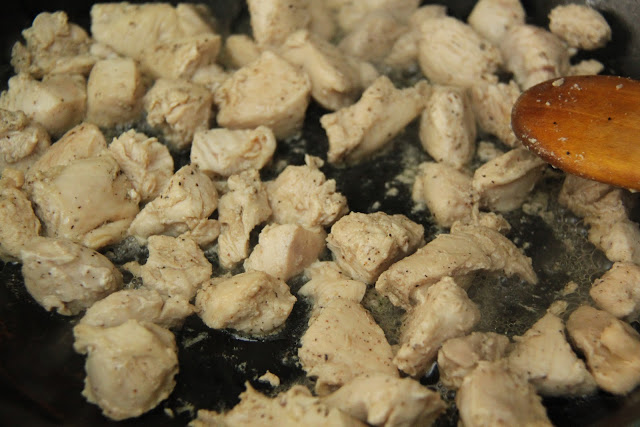 Ah, that's better!  Okay, not really.  Cooked chicken doesn't have much to offer in the food photography department either, does it?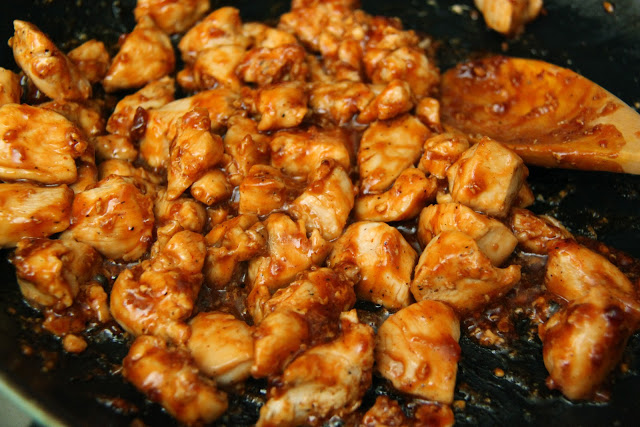 Ok, now this is BETTER!  Yeah, add in that nice and thick sauce and cover every piece of chicken with it.  YUM!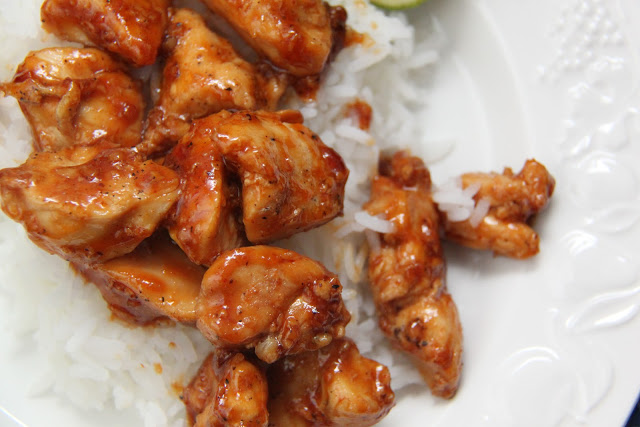 Sweet and Spicy chicken.  Yes, this is definitely much better than Chinese take-out!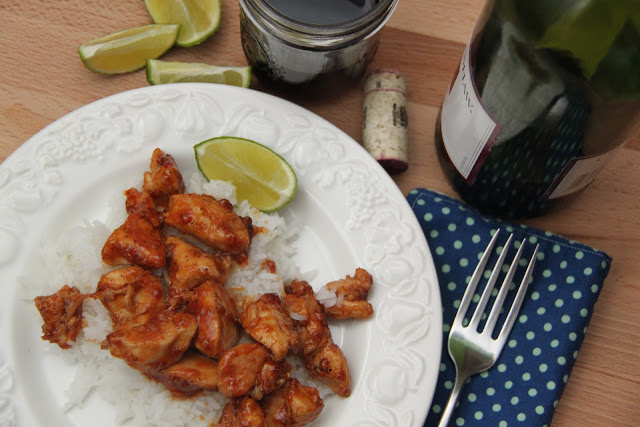 Hope you love this one and make it this weekend!
Thanks for stopping by today!
XOXO,