Ok
, so for dinner on Sunday I made this recipe, one of my absolute favorites for it's simplicity and taste. I ate and ate and ate. On Monday, I ate some more. Man, I love eating now that it doesn't make me throw up!
Yay
for not being nauseated 24/7 anymore!!!
Tonight, only being Wednesday, I am making it
again!
I know, I'm a little insane. But, seriously it is that good! That and maybe my body is trying to tell me that I need some major veggies and protein since months of eating nothing can really wreak havoc on your body, especially when there is a little someone else nestled in your belly.
So,
here it is. My super yummy in your tummy recipe for Chicken Taco Soup. Make it, let it simmer all day, smell the 'yum' take over your house and then devour with shredded cheese, sour cream and taco doritos chips!
Awesome!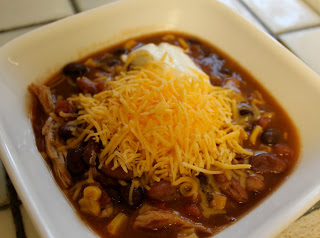 Crockpot Chicken Taco Soup
Ingredients
2-4 chicken breast (depending on size, about 1 pound...these can be frozen too!)
1 can no salt added corn, drained
1 can black beans
1 can chili beans or light red kidney beans
2 cans diced tomatoes with green chiles
1 8oz can tomato sauce
1 12oz bottle of beer (or chicken broth)
1 1.25 oz packet taco seasoning
Instructions
Place all the above ingredients into your crockpot and mix well.
Set on low for 7-8 hours or high for 3-4.
Pull the chicken out, shred, and place back into crockpot.
**Serve with shredded cheddar cheese, sour cream and TACO doritos chips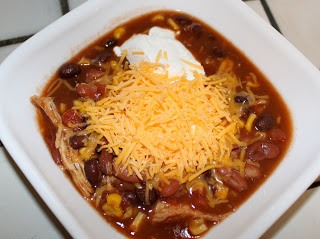 Looks so
good
you want to eat it off the computer screen, don'tcha!?!