*I partnered with Disney's The BFG  for this post, all ideas are 100% my own though, as always!
Winter break is coming up in a week and a half for us, how about you? Is yours sooner or a bit closer to Christmas? No matter what, you have at least 2 weeks to somehow entertain your children and I have just the thing you can do to keep them busy and entertained! This Easy Paper Plate Dream Catcher is perfect for little hands and a small bit of adult supervision! With the DVD release of The BFG on Blu-ray, Digital HD & Disney Movies Anywhere, this is the perfect craft project to work on after watching the movie together. Just imagine all the fun colors and designs you can create together!
In the movie, The Big Friendly Giant (also known as The BFG!) collects dreams and can place them into humans while they sleep with his trumpet. He can place scary dreams or happy dreams. After watching The BFG with my kids, I thought it would be fun to make Dream Catchers with them to place in their rooms. Dream Catchers are made of a web of yarn or string and are supposed to catch the bad dreams and let the good ones through.
To make these Easy Paper Plate Dream Catchers you will need:
yarn
paper plate
sharp pointed scissors
hole punch
pony beads
feathers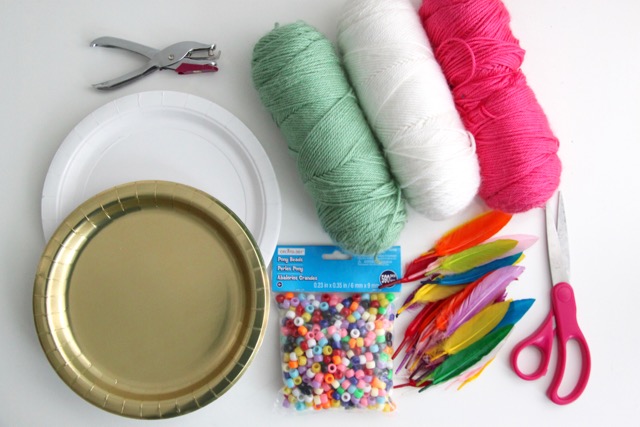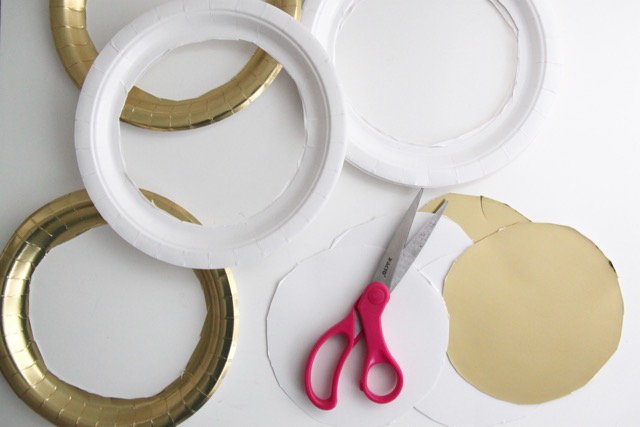 The first thing you will need to do is use the sharp pointed scissors to cut through the paper plate and cut along the inside of the rim. This would be best done by an adult because you will need sharp scissors to cut through the plate!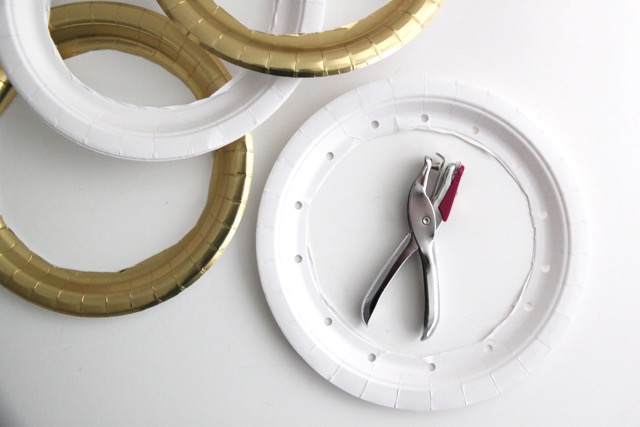 Next, using the hole punch, make holes all around the inside rim.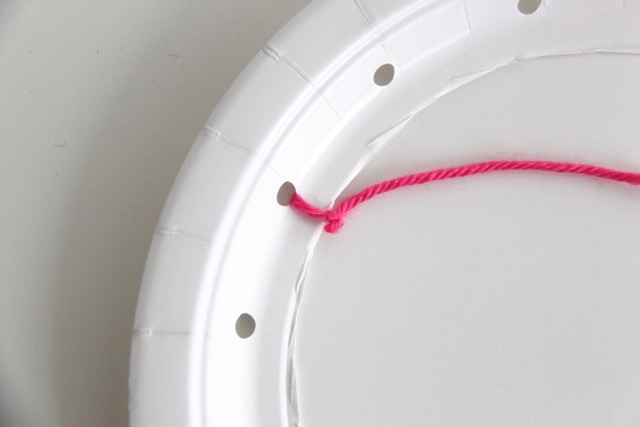 Then measure out about 3 feet of yarn (you will want to use 3-4 strands per plate) and tie one end to a hole.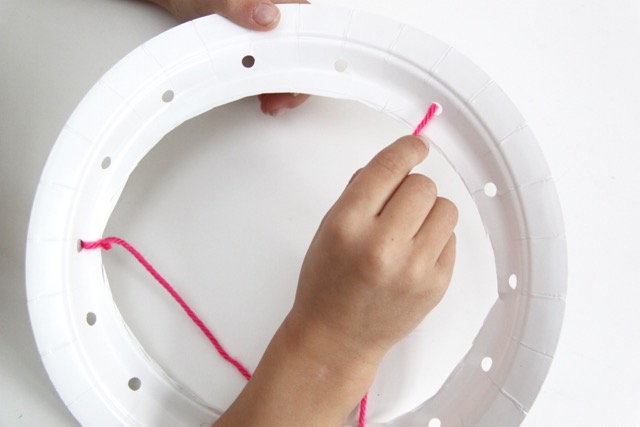 Have your child weave the yarn through a 2-4 holes.
On the last hole, pull the yarn through and then string a few pony beads.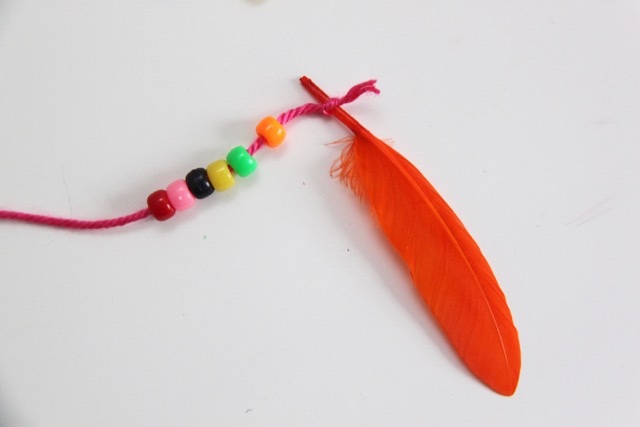 Next, tie on a feather.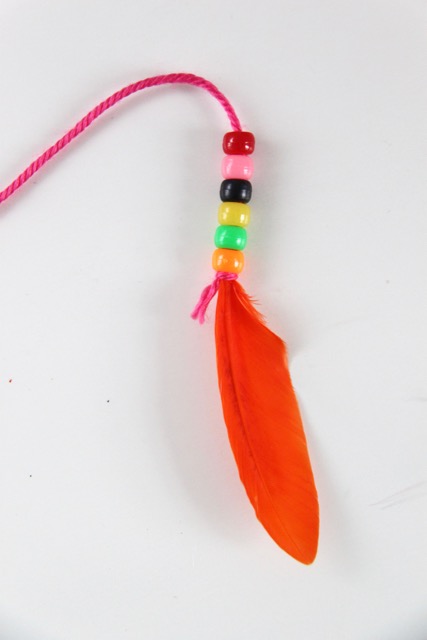 Push the pony beads down onto the quill end of the feather and then snip off the excess string.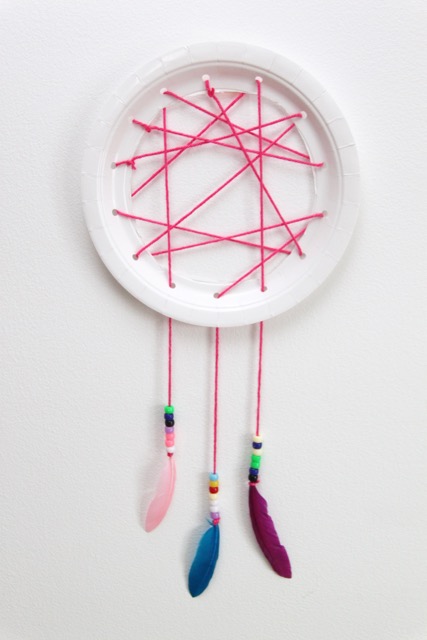 Continue doing this with the other strings of yarn until you have as many long feathered strings as you choose hanging from the bottom.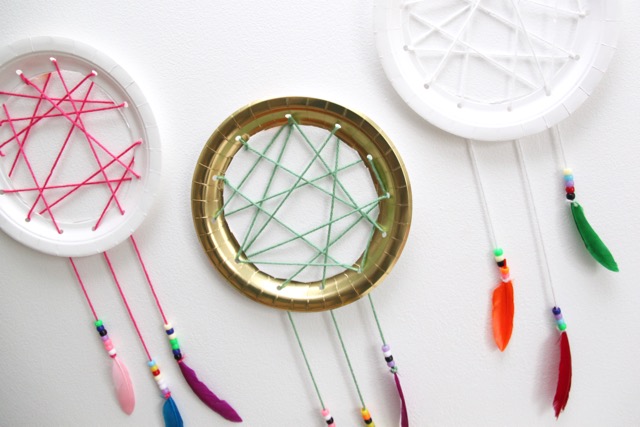 Then hang on your bedroom wall or bed post and enjoy more positive dreams and less negative ones!
Scholastic and Disney's The BFG have partnered to celebrate the release of Disney's The BFG on Blu-ray, Digital HD & Disney Movies Anywhere with a Dream! Make! Create! destination site hosted on the Scholastic website filled with fun BFG-inspired activities. Parents can use content found here to connect with children through activities and craft ideas fit for the holiday season.
The Dream! Make! Create! site includes other BFG dream-inspired crafts, such as a holiday village luminary resembling Sophie's hometown of London, a Dream Journal, a What Kind of Dreamer is Your Kid? Quiz, and videos featuring Tiny Tin Doll Beds and Giant and Mini Snowflakes. Go check it out today!!!
Thanks for stopping by today!
Love,
Maggie
This is a sponsored conversation written by me on behalf of Disney's The BFG. The opinions and text are all mine.