Here is a peek at Eloise's First Birthday party we threw for her last weekend.  The theme was 'Vintage Milk and Cookies'.  I chose this theme because I liked the idea of the goody bag for our guests at then end of the party being a whole spread of cookies that each guest could choose and bag up themselves.  We had close to 50 people attend Ellie's party…all such wonderful and amazing friends and family!  We really wanted each one of them to be able to take something home that any age could enjoy!  Who doesn't love cookies, right!!
Being that Eloise is number 3 in our child line up, we felt we wanted to do something extra special for her big day.  We rented one of these huge bounce houses as our main children's activity.  What's a child's birthday party if there isn't some sort of fun entertainment!  The birthday cake one seemed appropriate, don't you think?  Knowing we would have lots and lots of little friends who were coming to help celebrate with us and many of them are Noah and Penelope's ages this seemed to be the perfect idea and it truly was an absolute hit!
Here's our little birthday girl bouncing away the night before her party!  I thought she might not like the unstable feeling of it all but she adored this thing.  She gave us lots of smiles and giggles as we bounced her around!
In keeping with my vintage theme, I of course had to use lots and lots of mason jars in the decor.  Oh, how I love mason jars, there is definitely no shortage of them in our house!  I filled the big quart sized ones with all sorts of different blue and red candies and placed them near our food/buffet tables to add those pretty pops of color.
We ended up having 3 separate tables for the food and drinks…I was a little taken aback by this but we really did need a whole table set aside just for the 'cookie bar'!
Here is a peek at the full cookie table.  This was where all the sweets were…and some extra popcorn snacks for the kids!
We had 6 varieties of cookies/bars to choose among for the goody bags.  Chocolate chip, Snickerdoodle, M&M, Oreos, Sugar cookies, and Rice Krispie bars.  I even placed the M&M cookies in a giant mason jar, that had to be my favorite way to display cookies!
Each cookie had a tag or tent card with their name and the cookie jars were all decorated with coordinating ribbon.  
I added fun blue and red jimmies to the tops of the Rice Krispie Bars and the sugar cookies and used only red and blue M&Ms in the M&M cookies.  I love trying to coordinate the food into the color theme as well!
Here is Eloise's cake!  This was decorated by one of my dear friends Wiwik!  She is the most amazing cake decorator and floral designer you'll meet.  When she offered to decorate Ellie's cake I just could not turn her down.  I think it turned out perfect…so, so beautiful!!
Lastly, on this table I added a tray of Pirate's Booty in coordinating treat cones to help balance out all the sweets!  My husband made two treat cone boxes for the party…I love them so much!  All we had to do was set the cones in the box and fill…so easy!  The cones were made from scrapbook paper I found at Michael's and Joann's.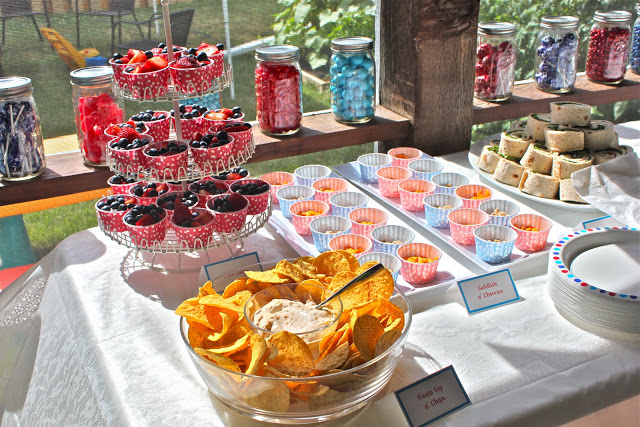 Our other food table was loaded with goodies too!
For more kid snacks, I put together little pink and blue cups with Eloise's favorite, plain Cheerios, and an all-time kid favorite, Goldfish…the kids loved these cups they could grab and then run outside to the bouncer.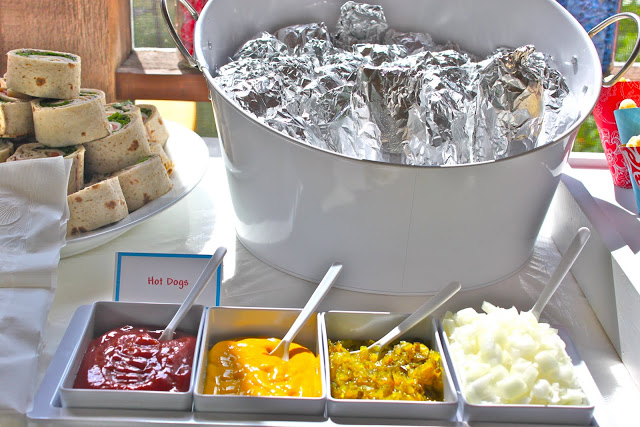 We offered turkey pinwheels and hotdogs too.  What I loved about the hotdogs was that we wrapped them individually in foil so that they would stay toasty warm throughout the whole party.  It's funny but we actually got lots of compliments from our guests about how warm the hotdogs stayed until the very end!!  
Since the majority of our friends who came have children and we knew all the kids would be hitting up the bouncer we tried to make our food grab 'n go friendly!  This way the kids and adults could just grab what they needed and run outside, you didn't really need a plate and a place to sit…although we had both readily available 🙂
We also had a piñata for the kids which was another easy goody bag for them to have.  I love doing piñatas at children's birthday parties…eveyone gets soooo into it!
This was our official baseball player striking his batting stance!  You can see his proud papa directly behind in the picture, so sweet!
CANDY!!!  We have CANDY!!
Eloise loved having everyone sing Happy Birthday to her, at the end of the song she started clapping!  She also was getting a little grabby with her cake as you can see in the picture!
We let Eloise have at the WHOLE cake, I still can't believe we did that!  It was so fun to see her picking at it!  And no icing in the hair, I was in shock…everytime she eats she puts her food in her hair!
WOW!!  So that's it!  This was one long post…sorry about that!  
I hope you enjoyed seeing all the fun we had at Eloise's First Birthday!  I still can't believe my little baby is One Year Old!  We were so happy to have so many wonderful friends and family come and help us celebrate our little girl…hugs to you all!
I also have a few related posts that I'll try to put up later this week for some of the stuff you saw today.  Hope you are not birthday-partied out by now!
XOXO,